Clubs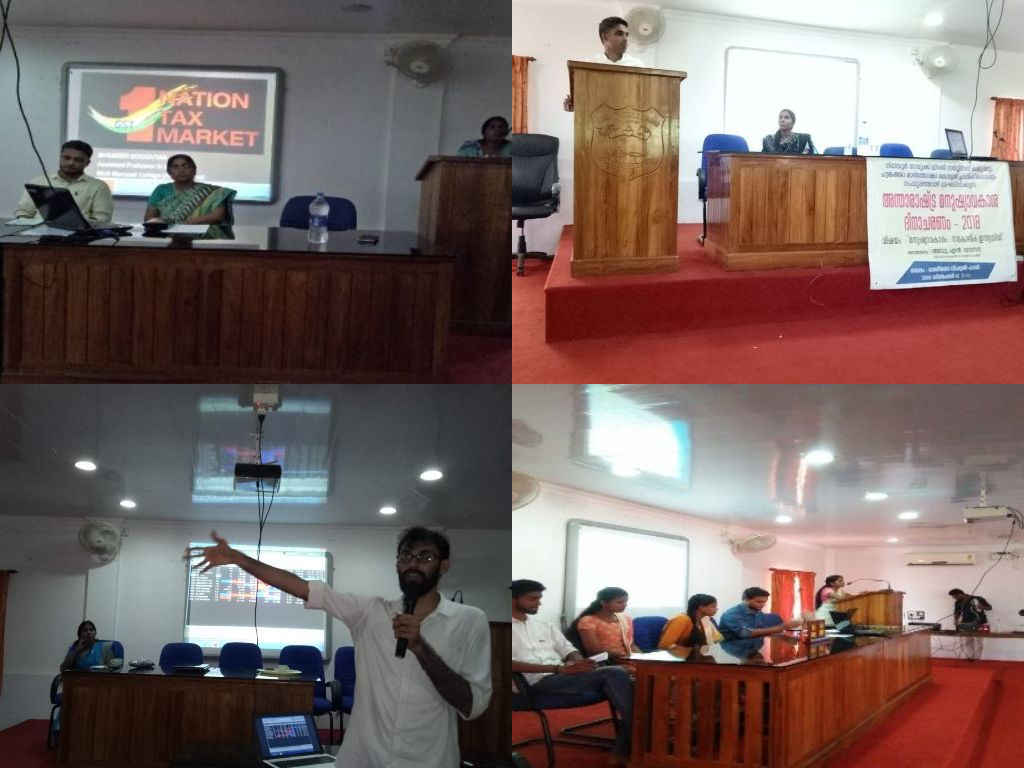 PLANNING FORUM
 Planning Forum is one of the oldest associations of the college. Under the initiative of Economic Department Planning Forum is conducting Debates, Quiz Competition, Poster Designing Competition, and Essay Writing & Seminars for the students. The objective for organizing these events is to provide a platform for the students to express their views and opinions on various current socio-economic issues. The Planning Forum and Economics Association aims to create a dialogue and discussion on various topics ranging from finance, economics and governance within the country to stimulate the minds of the students and promote better understanding of various issues among them.
Activities:
2018-19
A Prediction Competition in connection with FIFA World Cup Russia 2018 had organized for the students and faculty of our college. Predictions were on 'World Cup Champions', 'Tournament Top Scorer' and 'Best Player'. Winners were felicitated with jerseys of the respective world cup teams.
Planning forum in association with the department of economics has organized a pencil drawing competition on 'Save Mother Earth' for the students of college on 6th July 2018. The competition was conducted as a part of 'Van Maholsav Celebration 2018'. Students from other departments had participated and winners were distributed with certificates and attractive prizes.
A class on 'Stock Market and Trading' was arranged for the students of our college on 1st August 2018. The class was taken by Mr Arun Kumar, Branch Manager, Share Wealth India, a share broking company in Nilambur. The class was followed by a discussion session. Students could use the opportunity for clarifying their doubts on share trading.
One day seminar on 'Goods and Services Tax- New Tax Regime of India' was organized on 18th September 2017 at College Seminar Hall. Mr Shameer Moozhiyan, Asst Professor DGMMES College, Mampad, handled the session. Interested staff and students had participated and the programme witnessed an active discussion among the group.
In connection with Human Rights Day Celebration, Planning Forum, in association with Legal Services Committee in Nilambur, organized a talk on 'Relevance of Human Rights in Contemporary India' on 10th December 2018. Adv.N Yasar, Taluk Legal Service Commission, was the resource person.
2017-18
World Population Day was observed in our college on 11th July 2017. In connection with this, an inter-departmental poster designing competition was conducted for the students. The topic given for the competition was 'Population and Environment'.
Independence Day was celebrated in the college under the initiative of planning forum and a quiz competition on 'India's Freedom Struggle' was organized on 15th August 2017. Twenty teams from various departments had participated in the competition and the final winners were awarded with certificates and prizes
  2016-17
As part of Independence Day celebrations department in association with Planning Forum organized an Inter departmental Quiz Competition on 'India's Independence Movement' on 12th August 2016. Principal Dr Raina Thomas inaugurated the programme. The event witnessed active participation of the students.
2015-16
Department of Economics in association with planning forum of the college organized a talk on 'Human Rights' on 10th December 2015. Principal, Prof. Abraham P Mathew led the session.
A discussion on 'Kerala state budget 2016-17' was held on 12th February 2016 in the college seminar hall. Prof Abraham P Mathew was the resource person. Students were given a platform for raising their doubts and concerns regarding the new policies introduced by the government.
2014-15
A presentation on the 'Union Budget 2015-16' was taken by Prof. Abraham P Mathew, the principal, Mar Thoma College on February 2015 in the College Seminar Hall.
2013-14
A discussion on 'Union Budget 2014-15' was held on February 2015 in the College Seminar Hall. Prof Abraham P Mathew was the resource person.